Exclusive New Indian Express: Done deal in 10 crores
New Indian Express: Done deal in 10 crores
The newspaper negotiates, along with its sister concern, Dinamani, to peddle Hindutva package for huge sums
---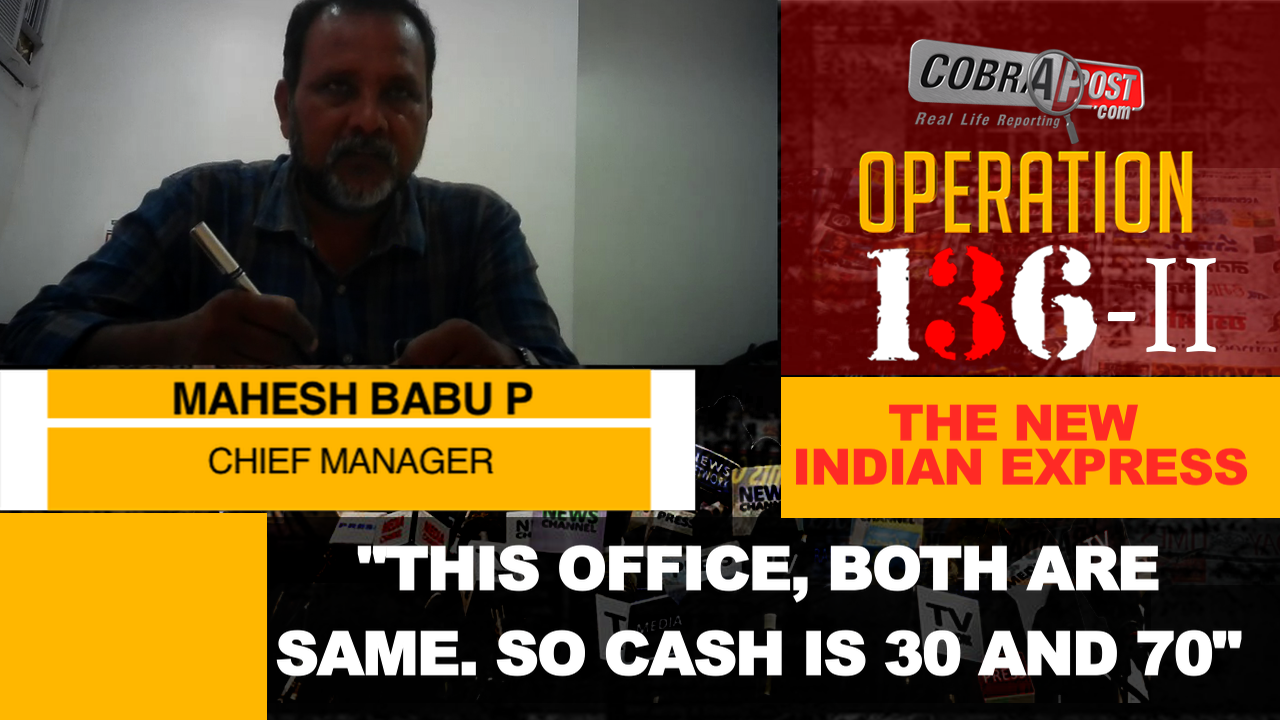 ---
cobrapost - May 25, 2018
If you like the story and if you wish more such stories, support our effort
Make a donation
.
---
Mahesh Babu, Chief Marketing Manager; Jayshree Chakravarthi, Sr. Manager (Online Marketing), New Indian Express, Chennai




The New Indian Express was born in 1991. When its owner Ramnath Goenka died, his family split Indian Express into two separate entities. Indian Express started by P. Varadarajulu Naidu in 1931 and Goenka took over the ownership after a legal battle in 1935. However, after the split, the New Indian Express, owned by Manoj Kumar Sonthalia, has been able to not only retain its readership but also expand its base down south, with over 495,618 copies sold every day and with 22 editions published simultaneously from Tamil Nadu, Telangana, Karnataka, Andhra Pradesh, Kerala and Odisha. The group also owns a Tamil daily, Dinamani, which was launched way back in September 1933, published from Bangalore, Chennai, Coimbatore, Dharmapuri, Madurai, New Delhi, Tirunelveli, Tiruchirappalli, Vellore and Villupuram.




It was just a random visit to the Chennai office of the New Indian Express by Pushp Sharma to see if there were any takers of his agenda, although he knew the chances were slim. However, to his shock when he met Mahesh Babu, he found the chief marketing manager more than eager to run his invidious agenda not only in his paper but also in Dinamani. As the journalist begins to brief him on his agenda of Hindutva and how it has to be run using the preaching of the Bhagwad Gita and Lord Krishna, Mahesh Babu says: "Hindutva agenda? Okay, okay." Yes, this is what we looking for, he is told. "So you are planning to give advertisement in the New Indian Express and Dinamani." Yes, certainly, in both and digital. "So you are planning for what type of advertisement?" he seeks to know. We want to promote Hindutva through preachings of Bhagwad Gita and Lord Krishna, so that we can derive political benefit out of this campaign in coming eight-nine months.




Mahesh Babu does not have any issue with our agenda, as he again says: "Hindutva agenda. Okay … Okay, okay." Taking the client the journalist as someone from the BJP, he asks: "So, you [are] calling people to join BJP party?"




Not at all! We are here to just promote Hindutva through our Shrimad Bhagwad Gita Prachar Samiti and for the first three months our campaign will focus on preachings of Lord Krishna only. We will release such advertisements in your papers, he is told. He asks: "So this type of advertisement given in digital as well as print." Yes, and it will help us make people relate to Hindutva and our party as identifying with Hindus. Understanding now what the objective of the exercise is, Mahesh Babu asks: "So that advertisement comes under big space or small space?" We would like to publish it as jackets, he is told. Mahesh Babu is ecstatic: "Jacket. Wow, wow, wow!" The reason is simple: a jacket means big revenue. When the client the journalist tells him that he has set aside Rs. 10 crore for his campaign in the New Indian Express, Mahesh Babu is unable to hide his glee: "Wow, wow … Only [New]Indian Express group?" Yes, you heard it right, he is told.




But would be able to take care of my agenda, asks the journalist, which is simply soft Hindutva? "Yeah … No, I don't think so. [New] Indian Express [is] also close to that party. So I think we [can] carry [your campaign]," we hear him reassure us as he reveals where as a paper his organization's loyalties rest with. Now, knowing well where the newspaper stands with regard to their political inclination, the journalist explains him how he wants to make fun of Rahul Gandhi on their digital platform using his nickname Pappu. We will create such content as would help us do his character assassination. Understanding what design we have on Rahul Gandhi, Mahesh Babu asks: "Humm humm, you want to damage all?" Yes, he is told, and we have made a lot of investment in the past decade or so to brand him as Pappu, so that nobody takes him seriously during elections. "Okay, okay, you mean that elections means definitely people will not accept … not … there like is a funny talk only … [Yes] Not [a] mature person. Humm hum," he says, understanding the intention behind such branding. You got it right, he is told, and we want this image to persist among the people.




After hammering home this point, the client the journalist now tells him what the next item on his agenda is. After playing well the Hindutva agenda, he is told, we would like you to help us through this campaign to polarize the poll scenario as during elections other parties would certainly play minority card. "Okay," we hear a crisp reply from Mahesh Babu on this diabolical demand as well. Taking the journalist as a potential client who has deep pockets and is ready to squander all his money, Mahesh Babu explains how advertizing in Dinamani will be of help. "So very authentic newspaper," he informs us. You see, the journalist now explains while reiterating his agenda, we are approaching you directly because we want to save 15 percent by not hiring an ad agency but because our agenda is very secret. We know the New Indian Express enjoys a lot of credibility and after this initial phase, as we build our relationship on it, we will be working for Modiji's election in 2019, for which we have set aside a budget of Rs. 50 crore for the New Indian Express. We know your paper can help achieve our objective of creating an atmosphere of Hindutva and thrashing our political rivals through this campaign, both in print and in digital. The New Indian Express means serious reader. This is like music to his ears as Mahesh Babu says: "Yes, yes, very serious reader … lot of things … social media plus political … plus lot of activity we have done."




Coming to the mode of payment, the journalist tells him that he would like to pay 30 percent in cash and rest by cheque, and for the cash part he does not require any documentation. Mahesh Babu does not have any problem while accepting cash as he says: "Okay, okay, okay. So no legal documents, no need … even that this is not …" That settled, the client the journalist comes back to his agenda of character assassination of leaders like Rahul Gandhi. He tells Mahesh Babu that after the promotion of his Hindutva agenda, they are expected to go for thrashing political rivals. You have to use their nicknames such as Pappu and create satire to make fun of them. Agrees Mahesh Babu to say: "Okay, okay, okay. It's anybody's name, no, Pappu, Chintu small [kids' pet names]."




After satisfying himself that his nefarious agenda will be run by the New Indian Express and sister publication, Dinamani, courtesy their chief marketing manager, Pushp Sharma sought a meeting with the digital head of the paper. These days, the digital space has become the most effective medium of reaching out to target audience beyond geographical boundaries and time zones. Therefore, next he met Sr. Manager (Online Marketing) Jayshree Chakravarthi at his hotel. To see if she has been apprised of the purspose of this meeting by her colleague, the journalist asked Jayshree what was the budget that he had quoted for the New Indian Express. Replies Jayshree: "[Rs.] 5 crores." Please make a combo deal for our campaign, the journalist tells her, so that they could move ahead on the deal. "Okay. You want me to bring print also into it or you want only digital?" Jayshree wants to know. No, keep the digital separate from the print. We have set aside a separate budget for digital promotion. Says Jayshree: "Only digital yeah that's what … Okay." Asking banking details for the transfer of funds, he again insists for a good combo deal. Jayshree says: "Fine Sir, whatever we can do for the first four months whatever you said like video banner we need to run apart from that some good quotes from Bhagwad Gita, as banner, expendable banners and whatever."




Yes, you got it right. Why not include Apps as well in the deal, he tells her.




"Yeah, Apps plus web everything… yeah I will just put it and send you email," Jayshree tells the journalist. But give it a saffron background whatever you create for the purpose, the journalist reminds her how the campaign has to be run. "You want us to design it, everything or …?" asks Jayshree. We have many things ready for the campaign, the journalist tells her. She offers: "Yeah, you can send it to us. So that we can in case … required according to the sizes and other thing, I can get it done from my designer that I can get it done. Definitely, I will work it out and send you the proposal." I have already sent you a mail, the journalist tells her, and you can get back to me always.




She will certainly do that she tells us. "Yeah, I will do that and also suppose in case if my boss would like to meet you so…" she asks, "when you [will] be coming?" I shall visit the city next week, he tells Jayshree, as you know elections are round the corner in Karnataka. "Yeah, it [has] started …. I am getting calls from BJP also to take the campaigns in the New Indian Express…" she informs us.




---




New Indian Express response.




We have received the response from New Indian Express Group to our detailed questionnaire. To read in full, please visit check Here.




---




If you like the story and if you wish more such stories, support our effort
Make a donation
.
Tags : New Indian Express Operation 136 IICobrapost expose exclusive exclusive coverage Investigative journalism journalist paid news cash for news fourth pillar of democracy reporters Pushp Sharma Media on Sale
---