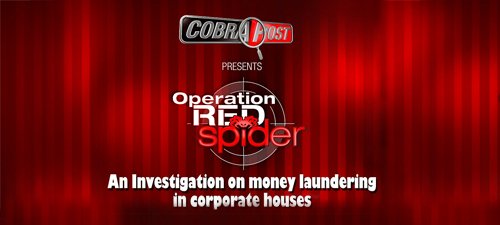 OPERATION RED SPIDER, PART- 1
ICICI BANK, CASE 15: A. DUBEY, ASSISTANT MANAGER, WEST DELHI
ICICI BANK, CASE 15: A. DUBEY, ASSISTANT MANAGER, WEST DELHI
---
Showing black money as the proceeds from the sale of property is Dubey's preferred method for making it legitimate: "Profile hum log dikha denge ki ye hai property holder (We will show in the profile that he is a property holder)"
Posing as a frontman for a politician, the Cobrapost journalist meets A. Dubey, who is working as an assistant manager with this branch of ICICI Bank in West Delhi. The preliminaries over, the reporter states the purpose of his visit: A minister wants to invest Rs. 50 lakh cash in the names of the minister's wife, his front man, the reporter himself, and his wife, in a long-term insurance plan which yields high returns and makes the money white.
Open multiple accounts, suggests the manager, to sequester the cash. He will make a profile declaring the customer a property holder: "Profile hum log bhejte hain team ko ki customer ka profile kya hai. Profile hum log dikha denge ki ye hai property holder (We send the customer profile to our team. We will show in the profile that he is a property holder)."
Dubey advises the visitor to opt for GSIP, claiming insurance is the best way forward. After 15 years, the customer will receive Rs. 2.10 crore on the sum assured of Rs. 70 lakh, in white. There will be no tax deductions. "Tax pay nahin karoge yeh bhi guaranteed rahega (It will be guaranteed that you won't have to pay any tax)."
Describing the internal mechanism of how the bank will convert the black money into white, Dubey says: "Bank ka account mein paisa aayega wahaan se demand draft bun ke niklega. Source of fund mein daalenge property selling ka paisa hai (The money will come into the account and it will go out in the form of demand draft. We will show source of funds as proceeds from sale of property)."
Has he ever handled this kind of cash investment in insurance? Dubey says: "Pandrah lakh ka ek kiya hai (I have done one case for Rs. 15 lakh)."
The journalist confides in the manager that the minister is likely to receive Rs. 5–7 crore after January 15 in cash, in bundles of Rs. 500 bills. Would the bank allot him a locker to keep the cash? While promising to convert the bundles of 500 to bundles of 1000 when the cash arrives, Dubey also says: "Karol bagh ki branch mein possible hai…doh aadmi ke naam par yahan locker allot kar denge aur doh aadmi ke naam pe wahan kar denge. Ek aadmi ke naam pe wahan badi waali sabse badi waali locker karva denge (It is possible in Karol Bagh branch. We will allot two lockers under different names here and two lockers under different names there. We will allot a big locker, the biggest one, to one person there)."
And of course the money has to be brought in when the bank has no customers. Dubey: "Time kintne baje lana hai ye bata dena … bank kahli rahe humara (Tell the time when you are bringing … so our bank remains empty then)."
The minister's wife wants to transfer these crores to England. Would the bank help? It can be done through remittances, says Dubey: "Remittance karenge dheere dheere (It will have to be done through remittance, gradually)." How much will be comfortable? Dubey: "Agar wo netbanking karengi to pachees hazar dollar tak apne se kar sakti hain (If she does it through netbanking then she can transfer 25,000 dollars on her own)."
But then there will be a bank note, cautioned the manager, and it will spill the beans, revealing the source of the funds and where they are going.
What's the way out of such an undesirable scenario, asks the journalist?
Pausing for a moment to ponder, Dubey says: "Ye rasta main… thoda time dijiye aapko batata hun (The way I …give me some time … I will tell you)."
The meeting concludes with Dubey promising to visit the politician in the evening with his senior A. Sharma to complete the formalities of the investment.
Anand Dubey's reaction to the investigation: Refuses to recall the meeting and says "Samajh nahin aa raha kya bol rahe hain (I am not getting you)" and "Aisi koi baat nahin hui thi (I didn't tell anything like that)."
---
If you like the story and if you wish more such stories, support our effort Make a donation.
---
---
---